Mark Segal, "A Springs Artist's Creative Odyssey": "Born in the Bronx, Mr. McCallion's first involvement with books was as an English literature major at Columbia. After graduating, he moved to the West Coast, earning an M.F.A. at Claremont Graduate University. It was there he became involved with Fluxus, an international network of artists, composers, and designers noted for blending different artistic mediums and disciplines in the '60s and '70s. … "Mr. McCallion's books use an impressive range of materials and techniques. … It's difficult to do justice to the variety and complexity of the books in words or in photographs. They are ideally experienced by hefting and opening the boxes and exploring the contents in what becomes a very personal exploration of an artwork."
Starry Night
Paintings and book design by Barry McCallion
Text excerpts by Vincent van Gogh
East Hampton, New York: Barry McCallion, 2021. Edition of 3 variants.
9.25 x 12.25"; 78 pages (57 numbered, 11 unnumbered). 9 folders of original paintings and excerpted text. Laid in relief-carved/ acrylic painted folder with star cutouts ion front cover accented in blue and red outlines as well as gold foil accent in center of each. Materials: unbleached Abaca paper; Old Holland oil paint, Richard de Bas paper. Housed in black cloth clamshell box with handwritten paper title on spine and starry night illustration on front cover. Signed and dated by McCallion. Text excerpts from publication: Nienke Bakker, Leo Jansen and Hans Luijten, editors "'Vincent van Gogh A Life in Letters". London, Thames & Hudson, 2020.
Barry, McCallion, Colophon: "Within twenty years of his death in 1890, extracts from Vincent Van Gogh's letters appeared in magazine articles, accompanied exhibitions, and were published as an edition by Ambroise Vollard. In 1914, Theo's widow, Jo van Gogh-Bonger, who managed the exhibition and sale of the paintings, edited a three volume work of Vincent's 'Letters to His Brother'. The paintings and the letters, together, made Vincent famous.
"From an anthology of the artist's letters], I made selections which represented van Gogh's life and his development as a painter. I printed the selections on a light, cream, laid paper and loosely mounted them on semi-transparent, unbleached Abaca pages. Twenty-six paintings, variations on a theme of 'Starry Night', alternate with the letters. I made the paintings with Old Holland oil paint on prepared Richard de Bas paper."
$5,700
The Cask of Amontillado
Text by Edgar Allan Poe
Book design and images by Barry McCallion
East Hampton, New York: Barry McCallion, 2018. Edition of 3 variants.
13 x 10"; 18 text pages, 9 original linoleum block prints. Handwritten text on beige Rives BFK paper. Lino prints enhanced with acrylic inks and paints. Includes two original carved blocks of the prints adhered to the interior of the box. Signed and numbered by the artist.
McCallion has handwritten the text of Poe's short story "The Cask of Amontillado". The text is accompanied by McCallion's original artwork. Poe's short story is a revenge plot with the resulting punishment.
McCallion's lino cuts begin with the narrator meeting his "friend" Fortunato on the street at Carnival time. He lures Fortunato to test a cask of Amontillado. Our next image is of the long and winding spiraling staircase that Fortunato descends to the catacombs (the next lino image). The images continue as the fate of Fortunato is revealed. The last image being that of the narrator building a wall concealing his "revenge".
"The Cask of Amontillado" was originally published in an 1846 issue of "Godey's Lady's Book". . It can be read on the Poe Museum web site . McCallion's imagery capture the dark and macabre nature of the story.
$4,200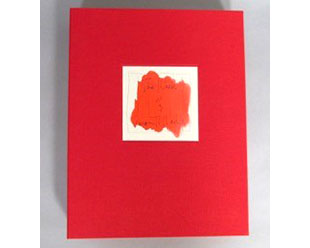 Click image for more