Cacophony
By Ed Hutchins
Salem, New York: Ed Hutchins, 2021. Edition of 200.
10" high x 8" wide, opens to 15" long; Five interwoven pages fold flat. Non-adhesive pop-up structure. Laser printed in full color on 12pt. Accent Opaque White Cover Smooth paper. Laser-cut and hand-assembled. Custom Fabriano Morillo portfolio & information card. Vector diagram and laser cutting by Joe Freedman. Structure design and artwork by Ed Hutchins. Signed and numbered by Hutchins.
Ed Hutchins: "Sounds are unseen, they can be heard but not viewed. Five interwoven pages fold flat, yet spring open to a visual uproar of sounds…sounds from nature, wild beasts, machines, weather, music, excitement, frustration, and life itself. Racing across intersecting surfaces and erupting from interior chambers—whether seen from the top, bottom, front, back, sides, or through viewing ports—a wide-ranging cacophony of sound expressions emerges in visual form. The kaleidoscope presentation begs to be picked up, unfolded, turned, twisted, tumbled, and contorted in every way to explore the many nooks, crannies, and hidden crevices. Each perspective presents additional words, resulting in a cacophony of imaginative sounds.
"The non-adhesive flat structure bursts into a colorful explosive wonderland where it is possible to see the unseen."
"Creating Cacophony", a movie about "Cacophony" narrated by the artist
Ed Hutchins: "Follow along as this innovative book emerges from idea to three-dimensions of boisterous revelry. In just nine zip-along minutes all the essential elements of good bookmaking are covered: book floorplans, the Michelangelo approach, book sculpting, vector diagrams, bump scores, Tucson AZ, canine assistants, word wrangling, paper choreography, and the all-important WOW factor.
"I provided the book concept and nimble fingers, Steven Warren worked behind the camera, and Jane Clegg of Q and A Productions took all the materials and clipped, snipped, stitched, manufactured, molded, shaped, edited, and polished the film into a cinematic gem."
$265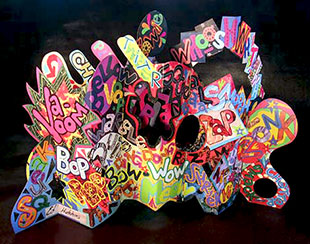 Click image to enlarge
Click here
for the YouTube link
Click here
for the link to Instagram
Book Dynamics
Ed Hutchins turns, twists, & topples tradition
Catalog edited by Joan Alden
Catalog designed by Joe Freedman
Mount Vernon, New York: Editions, 2009. Open Edition.

9.25 x 6.25"; 96 pages. 184 color photos. Cloth boards. Smythe sewn binding. Embossed illustration on front board. With illustrated color dust jacket.

Introduction by William J. Dane with essays by Bertha Rogers and C.J. Grossman. Book descriptions by Ed Hutchins.

Susan Gaylord, blog: "Ed Hutchins creates editioned books that are both playful and profound. In Book Dynamics, he has produced a wonderful record of his bookmaking adventures since the late sixties. Through photographs and words, he tells the story of his journey as an artist and a person. He shares his enthusiasm, humor, and commitment to his art and to making the world a better place."

Introduction: "Ed Hutchins lives in Mount Vernon, New York, where he is the creative force behind Editions, a studio for producing unique artist books. The books are frequently of small format with the most surprising visual effects and witty text. Ed has been an influential teacher and advisor for a great number of new enthusiasts for the artists' book movement. He spent some time a few years ago in Mexico working with creative book and paper artist to produce marvels of inventive book production."

Editions: "Part autobiography, part book description, and part behind-the-scenes intrigue, Book Dynamics! presents detailed information on 38 handmade books, along with colorful production photos, commentary, and a dash of gossip."
$30
Click image to enlarge
El Taco de Ojo (Easy on the Eye)
By Ed Hutchins
Mount Vernon, New York: Ed Hutchins, 2000. Edition of 48.
3.75 x 6" custom crafted box with opaque window to view taco book. Seven shaped pages of "colorful foamy material" inserted into taco shaped shell. Silk-screened text panels on each side of page. Text in Spanish with English translation on reverse page.
Seven filling-shaped pages stuff a taco shaped shell. The ingredient pages are silk-screened with sayings about food, hunger, and desire.
"Un taco sin salsa es como un beso sin bigote."
"A Taco without salsa is like a kiss without a moustache."
Ed Hutchins, colophon: "In July 2000 Steve Warren and I set out on a year-long visit to Mexico. Our first stop was Cuernavaca. Antonio Ortega, once he learned of my interest in unusual books, presented me with the tortilla paper and asked, "Can you do anything with this?" The taco shells were assembled after Steve and I moved to Guanajuato. The colorful foamy material came from a side trip to León, the text came from Steve's cooking class with Luis Marhuani at the Falcon Institute, and the printing was done at OK! Taller de Serigrafía. Several months later we ended up in Oaxaca where Miarima Schaer photographed the blank books and Maris Spelman rough-cut the box sheets. Final assembly and box construction took place at the Editions Studio in Mount Vernon, New York with much help from Elsie Sampson....Happy feasting!"
(SOLD/Out of Print)
Click image for more