Rain/fall
By Denise Bookwalter and Meg Mitchell
Chicago: Center for Book and Paper Arts, 2015. Edition of 50.

8 x 7.75"; 20 pages. Letterpress printed and laser-cut at Small Craft Advisory Press, Florida State University. 9 bound volvelles. Printed on Legion Bamboo paper. Bound in red book cloth. Numbered.

Promotional statement: "Through laser-cut rotating wheels (volvelles) Rain/fall proposes a new poetic form determined by weather data, where each page contributes two lines to a poem assembled by the reader in accordance with the local forecast. Designed by Denise Bookwalter and fabricated at Small Craft Advisory Press at Florida State University, the book is part of a hybrid project: a companion app, engineered by Meg Mitchell at the University of Wisconsin, and available free of charge on Apple's App Store, performs the same function digitally, accessing local weather data through GPS.

"While the digital affordances of the app are possible only with recently developed mobile devices, the book incorporates a mechanical computing technology devised by Persian astronomers in the 11th century. Together, the two versions dramatically illustrate expanded possibilities for the book form, both physical and digital, and the radical changes in literary practice that publication with new media can now enable."

www.rainfallbook.com: "The project Rain/fall accentuates the physicality of the book and the possibilities of contemporary mobile technology combining these seemingly disparate forms to create a complementary cross platform reading experience. Rain/fall is driven by geography and weather. The text in both the app and the book is determined by where the reader is and what weather the reader is experiencing at that location. In the app the reading experience is driven by location and weather data culled from a live database, while in the book the experience is driven by the reader who inputs his or her own weather data.

"Through mechanical means, Rain/Fall achieves the same poetic outcome as its companion app, generating a poem determined by the weather. A set of nine bound volvelles (wheel devices) display couplets keyed to icons, in turn linked to current meteorological conditions."

Colophon: "With the book, readers can choose their current local weather condition on the volvelle at the front of the book then turn the volvelle on each page to the matching icon to read the corresponding poem."

Click each individual image to enlarge
Click here for the link to Instagram
REF
By Katie Baldwin, Denise Bookwalter, Sarah Bryant, Macy Chadwick, Tricia Treacy
[Tuscaloosa, Alabama]: Shift-lab, 2019. Edition of 40.
15 parts housed in a custom 23 x 29 x 12 cm archival document flip-top box with an ascending accordion folder structure. Printing methods include letterpress, risograph, screenprinting, laser printing, and digital printing. Binding formats include concertina, spiral bound, document binder, pamphlet, double pamphlet, folder, paper envelope. Signed by each artist and numbered on the colophon.
Big Jump Press: "REF is an investigation into the erosion of the physical reference area of the library, and the fundamental shift taking place in the way we ask and answer questions. This project was produced by the members of Shift-lab: Katie Baldwin, Denise Bookwalter, Sarah Bryant, Macy Chadwick, and Tricia Treacy. Artists worked individually and collaboratively to produce elements inspired by the traditional components of a physical reference section: Almanac, Atlas, Bibliography, Biographical Dictionary, Chronology, Concordance, Dictionary, Directory, Encyclopedia, Gazetteer, Guidebook, Handbook, Index, Manual, and Yearbook.
"We've been working on this project for two years but made a big leap forward last May when four of the five of us met at the University of Alabama Huntsville. We spent a week workshopping ideas, speaking to librarians, making mockups, and investigating the reference area of the library there, a labyrinth of warm and cool buckram.
"This week of research and making culminated in a series of mockups that we used when we returned to our separate studios.
"As we designed our responses to traditional elements of the reference section, we used several dates as loose organizational principles to tie our work together:
1963: The publication of Automation and the Library of Congress
1991: The Gore Bill, which led to the World Wide Web as we know it today
1993: the publication of Planning Second Generation Automated Library Systems and the release of Mosaic, the web browser that popularized the World Wide Web
2001: the arrival of Wikipedia
"Reference sources evolved slowly to answer specific types of questions that emerged over time as people sought to engage with information. These types of questions, asked repeatedly for many hundreds of years, were the catalyst for the production of the 15 standard types of printed reference that we were responding to. We each worked as leads on between one and four components, sometimes individually, sometimes collaborating with other Shift-lab members. We kept a google doc of all of our sources, materials, sizes, and images. Our aim was to create a reference section that operated the same way a library reference section would operate: creating and highlighting linkages, and answering (or posing) multiple questions about related material.
"Where possible, we used our selected dates and sources as material content for our components. Repeated language, names, materials, and images crop up in multiple places. The Bibliography, itself a traditional reference type, became a natural place to list our sources for the project."
$1,200
Envelope
By Denise Bookwalter
Tallahassee, Florida: Denise Bookwalter, 2017. Edition of 10.
12 x 4 x 2". Laser cut. Printed at Small Craft Advisory Press in Tallahassee, Florida, on Japanese Hosho paper. Post bound with stainless steel screws and cloth over boards. Signed and numbered by the artist.
Envelope is an artist book about lighter-than-air flight, reflecting on its beauty and destructive power.
Colophon: "Envelope began in the summer of two thousand and eight when I traveled to Ohio and Germany to visit the archives of the Goodyear Blimp Company and Luftschifbau Zeppelin. . . .Between the pages it whispers about a summer of searching, of coffee breaks as newlyweds on the shore of Lake Constance, and all of the time between now and then."
The many definitions of envelope include the one for the gas bag that suspends the gondola of an airship or dirigible balloon. In Envelope the airship's envelope is revealed as developing space when one turns the pages. The complete dirigible shape takes form and disappears as one pages through the book.
(SOLD)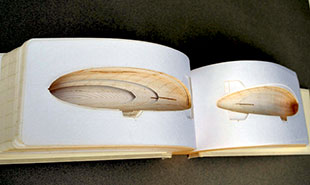 Click image for more